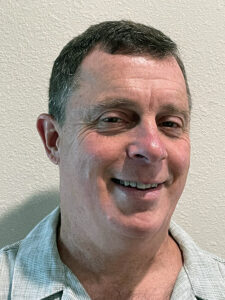 In 1996, I created Massage On The Go USA with my wife, Meredith, to introduce the benefits of massage to the college market.
As COO of the company, I cultivate relationships with massage therapists and help people better manage stress in fun and informative ways. I pride myself on finding the right massage therapist for each event and working closely with our schools and service providers to ensure an enjoyable and relaxing experience for all. I recently published my book, Simple Things, a guide to finding gratitude for all the profound moments we experience in everyday life.
My meditation journey began when I was looking for an organic solution to cope with stress. I was the sole caretaker of my ailing mother while raising three children and running a business with my wife. Regular exercise, rest, and proper diet proved insufficient. During this time, my mindfulness meditation practice played a pivotal role in keeping me calm and sane.
Though my meditation practice helped me survive many stressful situations, I was still searching for the missing ingredient. I wanted to learn how to be at peace even when I wasn't engaged in meditation. I wanted to bring the benefits of meditation into my everyday life, with all its distractions, disappointments, and upsets. I was tripping over pebbles and I thought the solution was to just meditate more.
It wasn't until I traveled to Bangkok that I realized I was missing a very important ingredient – one that is not often talked about in mindfulness meditation. While there, my wife and I had the good fortune to meet former monk Hartanto Gunawan, creator of the revolutionary Research Meditation system. This system seeks to provide answers that mindfulness meditation does not address.
Research Meditation offers a different approach to meditation, teaching us how to truly let go and stay present. Thanks to Hartanto, we now have a practical, everyday tool to gain a sense of balance and equanimity. Hartanto gave us his blessing to teach his system of meditation and we are the only Research Meditation teachers in the United States.
As The Sage Creators, our goal is to use the benefits of Research Meditation to guide you on the path to wisdom, peace, and clarity for a happier, more fulfilling life.